20221230 Graduation Special Exhibition-Epoch Times Report
Chang Gung University's Department of Resources and Engineering Completion Exhibition Focusing on Artificial Intelligence Daily Life after the Epidemic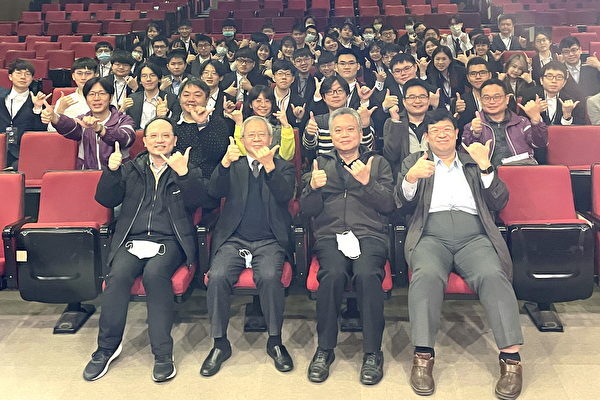 Principal Tang Mingzhe (second from left in the front row) took a group photo with teachers and students. (Provided by Chang Gung University)
Epoch Times December 30, 2021 (Reported by Epoch Times reporter Chen Jianlin, Taoyuan, Taiwan) The 16th Graduation Special Achievement Exhibition of the Department of Information Engineering, Chang Gung University, will debut at the Student Activity Center on December 30, 2021, featuring artificial intelligence. There are three main categories: domain application, learning environment in the post-epidemic era, and entertainment life action assistant. A total of 14 sets of works are exhibited, showing the creative display of the professional knowledge learned by the students in four years and cross-domain integration.
The Department of Information Technology stated that the educational philosophy emphasizes the combination of theory and application, applying the knowledge learned in the classroom to solving practical problems, and actually making it out of practice, experiencing the principles of learning by doing and learning by doing. From the first semester to the end of the first semester of the senior year and a half, the students and their instructors will plan on paper from creative ideas, goal establishment, steps to results. , The complete realization came out, this process is really very difficult. The production of the topic can not only cultivate the practical and application skills, but also train the students' division of labor, project management and communication skills.
In the field of artificial intelligence development and application, given that pancreatitis is a common disease in abdominal surgery worldwide and the top ten causes of hospitalized patients in recent years, Mr. Lin Zhongzhi guided Huang Jianming, Yang Jichang, Luo Yuanli, and Lin Shengkai to develop a "3D drainage tube". The smart planning system for puncture path in the treatment of pancreatitis", through image recognition, artificial intelligence, image processing and path planning, provides disease analysis and puncture path selection, makes up for the lack of personal experience of doctors, and improves the success rate of surgery.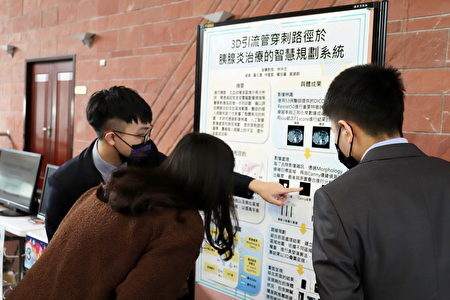 The Department of Information Engineering, Chang Gung University, completed the exhibition, demonstrating the diversified possibilities of artificial intelligence development and application. (Provided by Chang Gung University)
The team members shared that they all have a background of capital workers. In order to do this research, it is necessary to absorb and understand relevant medical knowledge. It was indeed a bit difficult at the beginning. However, it is not easy to obtain hospital medical imaging data through the teacher's industry-university cooperation. They cherish this opportunity, so they study and digest the data carefully. They are very happy that they can finally produce the topic. The hard work is worthwhile.
In the post-epidemic era, many campuses' learning and life have also changed. Teacher Li Jiqing has instructed Miriam Yang, Huiyi Xie, Jiaxin He, and Yanjun Ou from the perspective of expensive instruments and specimen operation learning behaviors that are difficult to be remotely developed. Treadmill Test System".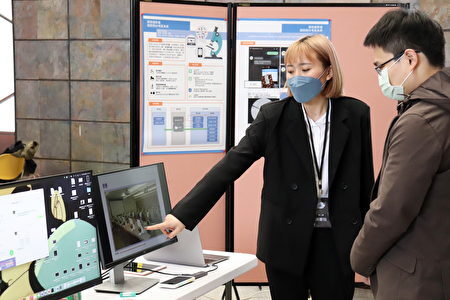 The "Microscope Image Remote Treadmill Test System" is a research inspired by the epidemic. (Provided by Chang Gung University)
Team members said that distance teaching has caused a lot of problems for departments that need to use microscopes. The system they developed can add facial comparison and object recognition with anti-cheating mechanism when conducting microscope examinations to maintain the order of examinations. It allows teachers to test the effectiveness of students' learning even in the case of remote teaching.
There is also "Using EEG and eye trackers to explore the learning effectiveness of different distance teaching models under the epidemic", which is a special work by Zhao Yiping instructing Wang Yupi, Li Yuqiao, Zuo Tingyu, and Lin Liwen to discuss remote teaching time It is impossible to immediately observe the problem of whether students are attentive or not. The team developed real-time concentration analysis technology based on machine learning through EEG and eye tracking technology, which can give timely reminders when students are not paying attention.
Under the guidance of Mr. Chen Guangwu, students Wu Wanyun and Bai Yijie studied "Using a species-specific scoring matrix to improve the quality of multiple sequence alignments of viruses". By improving the quality of multiple sequence alignments of enteroviruses, it is beneficial to use machine learning models in investigations. Test recombinant virus.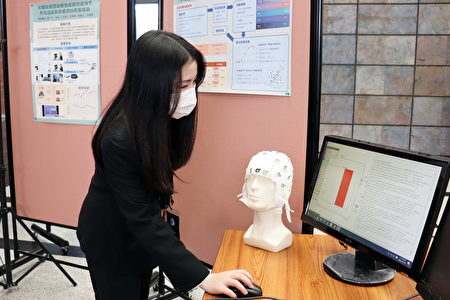 Students from the Department of Information Engineering of Chang Gung University used EEG and eye tracking technology to explore the learning effects of different distance teaching models. (Provided by Chang Gung University)
Creativity related to entertainment life is displayed on a number of personal and mobile assistant software. For example, the "Intelligent Audio Guide System Based on Image Recognition and Path Planning" comprehensively considers the real-time crowds and the preferences of visitors, and dynamically plans the navigation path. "Travel" and "OTT integrated recommendation platform APP—Adam's Apple" provide customized travel recommendations and audio-visual content recommendations based on user experience.
In addition to the publication of thematic results, the Department of Resources and Engineering also invited the seniors of the freelance cabinet who have been studying at Chang Gung University to obtain a doctorate to share their learning and work experience. Dr. You is currently the chief technology officer of Amed Medical Technology. His main expertise lies in the development of medical materials, wearable device development, medical device algorithm development, and medical device regulatory counseling. He also analyzes big data and artificial intelligence, Internet of Things devices, medical care with younger students. Disruptive trends such as data exchange and decentralization of the medical field are completely turning this highly professional and rigorous and conservative industry.